Ends Today: Save $94.99 on your upgrade!

Your Skincare Routine Just Got a Major Upgrade
Save $94.99 with this exclusive loyalty offer.
You're getting an exclusive limited-time offer for the NEW Radiant Renewal Wand! Upgrade your skincare routine before this offer runs out.
The #1 Skincare Wand, Upgraded
Enhance your results with the Radiant Renewal Skincare Wand
More Power
Twice the Red Light Therapy power helps reduce the appearance of wrinkles & boosts collagen. Get glowing skin in as little as 3 minutes a day!
Better Performance
Galvanic Current promotes better absorption of your favorite skincare products, like our Renew Complex Serum, for noticeable results.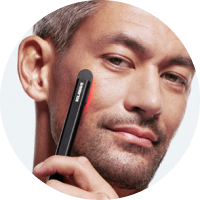 Self-Care Supercharged
Therapeutic Warmth and Facial Massage help to energize the skin and leave you feeling relaxed and recharged during and after every treatment.
Risk-free 30 day trial • Free shipping & returns • 1-year warranty
"I am obsessed with this new wand. In less time I'm seeing even better results. My husband laughs because I use it all the time watching TV."
"This thing is a magic wand. My skin has transformed in 3 weeks- clearer and smoother, and my fine lines seem less pronounced. It's pretty amazing."
"I love that the new wand has a power button and a timer. To me, that's a game changer. And it feels amazing to use."
"I wish I had jumped on board sooner!...I saw a change in my skin after only a few uses. I'm excited to keep using it."
All the improvements you requested
Thanks to your feedback, we've improved every aspect of the Wand.
On/Off Button
This top customer request makes handling the Wand easier than ever.
Travel Case
Sleek protective shell that lets you take your Wand anywhere.
Water Resistant
New magnetic charging technology means your Wand is safe from accidental water and steam exposure.
Risk-free 30 day trial • Free shipping & returns • 1-year warranty
Radiant Renewal Skincare Wand 2.0
⭐⭐⭐⭐⭐ (4.8/5 - 500+ Reviews)
We've completely reimagined and upgraded the 8x Award-Winning Solawave Wand! This next-generation 4-in-1 skincare tool offers more power, better performance and feels more luxurious than ever before.
• 1342 Wands purchased in the last 24 hours
Free US shipping & returns • 1-year warranty • Limit 2, while supplies last
Upgraded strength to reduce the appearance of fine lines, de-puff, and energize the skin
Now with Galvanic Current to help your skin better absorb serums & creams
Twice the Red Light Therapy for vibrant, glowing skin
Enhanced Therapeutic Warmth and Facial Massage for the ultimate soothing self-care experience
Even more travel friendly! Water resistant & includes a custom carrying case
3 Minute Timer: know when to move the Wand to the next treatment area
Easy returns
You'll have 30 days to try the Wand. If you don't love it, you'll get a full refund.
Risk-free 30 day trial • Free shipping & returns • 1-year warranty
"I always have clients asking how they can treat fine lines and puffiness in between appointments – this is it!"
Esthetician and founder of SB Skin